Anyone living in New York City will tell you that it's always, most definitely, all about the experiences.
The ones we love most begin with amazing food shared with great company. These organic moments leave you feeling better about yourself, your life, and your appetite for it.
We had the pleasure of hosting a double date night at our CHEF'S TABLE with our favorite blogger Gina from What The Doost!? along with her fiancé, fellow Doost Rain Dove Dubilewski, and her wonderful girlfriend Sierra Marie of Elite Daily
This six-course dining experience was paired with wines specially curated to enhance your palates. Each course unique and inspired by the fresh in-season produce we find at the Farmer's Market in Union Square.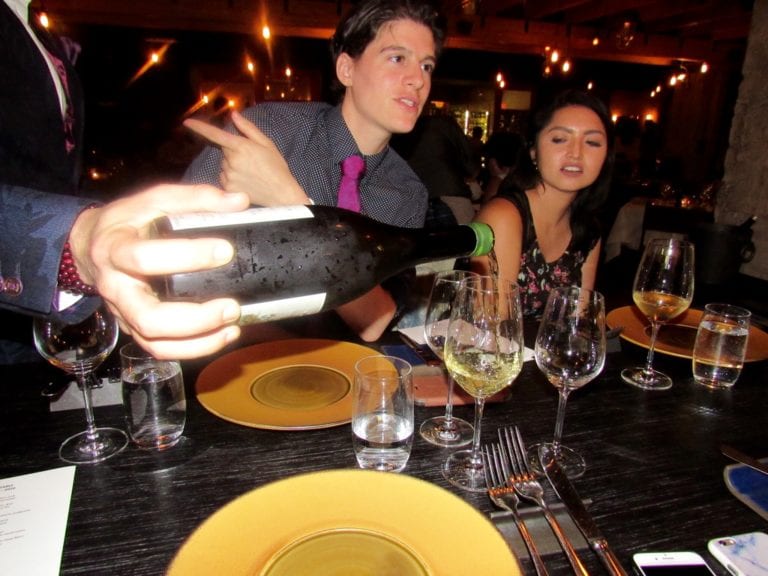 In Doherty's experience catering to the elite, he's learned that true luxury lies in comfort.
Allow us to transport you and your guests, from the noisy New York hustle, into an upscale barn inspired setting, with soft rustic colors, welcoming you into a relaxed state of mind. We want you to feel at home.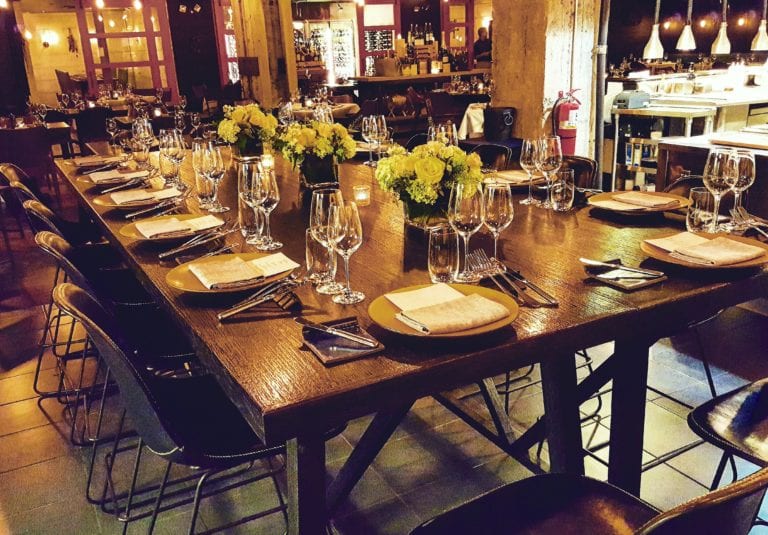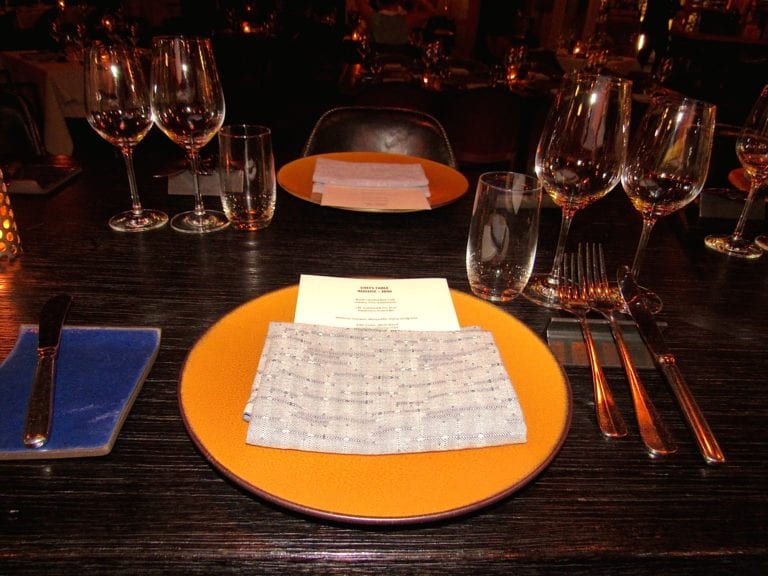 Our chef is fueled by the vision for impeccable dishes from his passionate staff.
When creating the Chef's Table, Doherty wanted to share a touch of magic with his guests.
The entire dining is a must-have NYC experience. Our dashing sommelier, Andrija Tadejevic, will fill a listening ear with details about each wine. He may even pop champagne with a saber if you ask properly.
1st Course
North Carolina Blue Crab with cilantro and lime on thinly sliced watermelon. Paired with J.M. Gobillard & Fils, Brut from Hautvillers, France.
Here's what the group had to say about it:
This tasted so good! After a long week in constant and humid heat — the crisp taste of sliced juicy watermelon with crab was an excellent way to start an experience like this. The delicate flavors of the meat paired perfectly with the sweet and juicy fruit. The sweet bubbles of the champagne washed it down gracefully.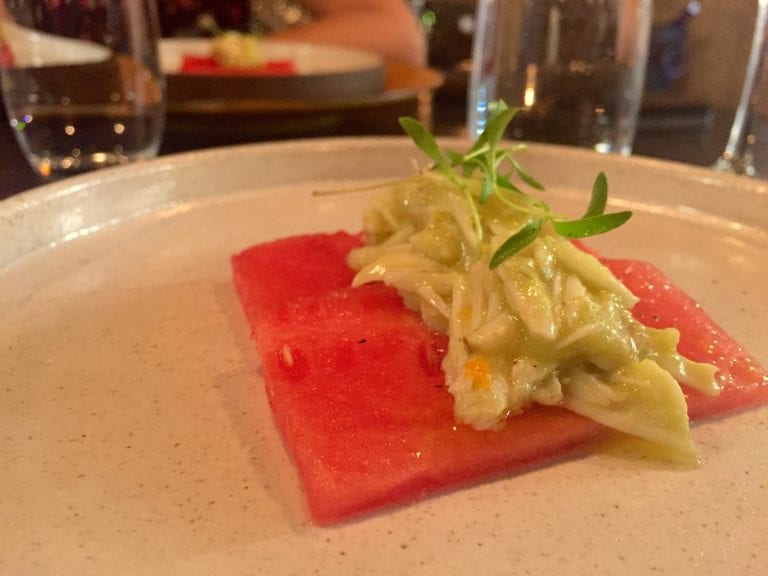 2nd Course
Heirloom Tomatoes, Mozzarella, with drizzled sherry vinaigrette. Paired with a bottle of the 2014 Arbe Garbe, White Blend from Sonoma, California.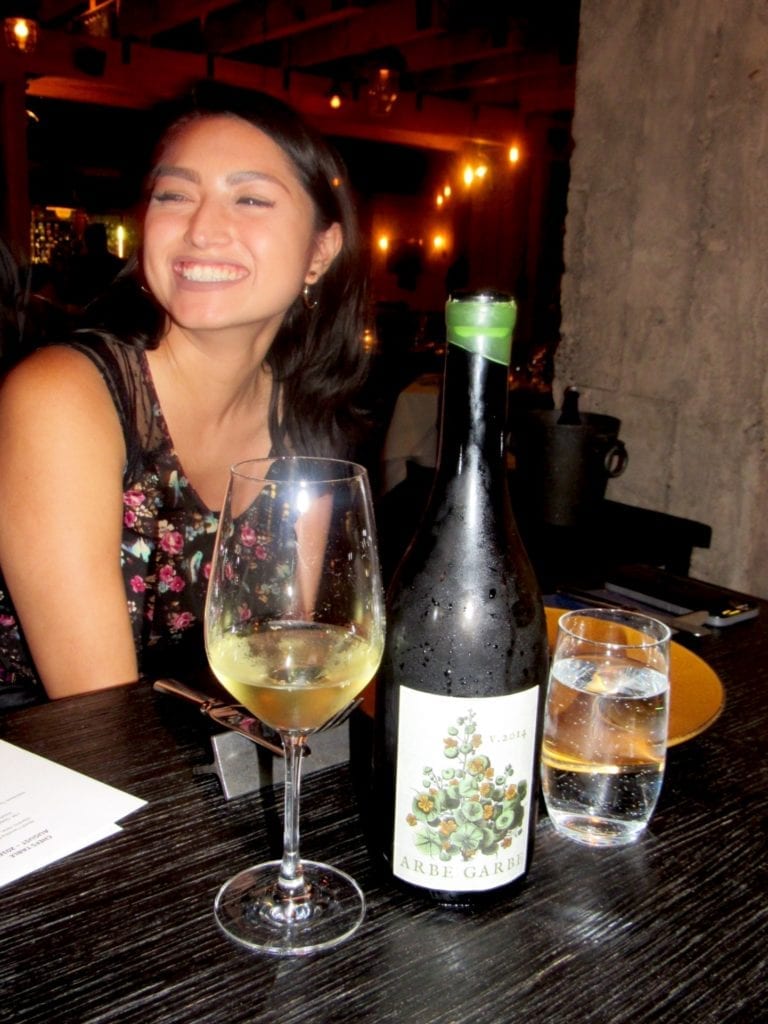 Hand selecting the tomatoes from the local farmers market creates a base to this dish that is rarely equalled in the city. This classic tastes exactly how you would wish for it to be.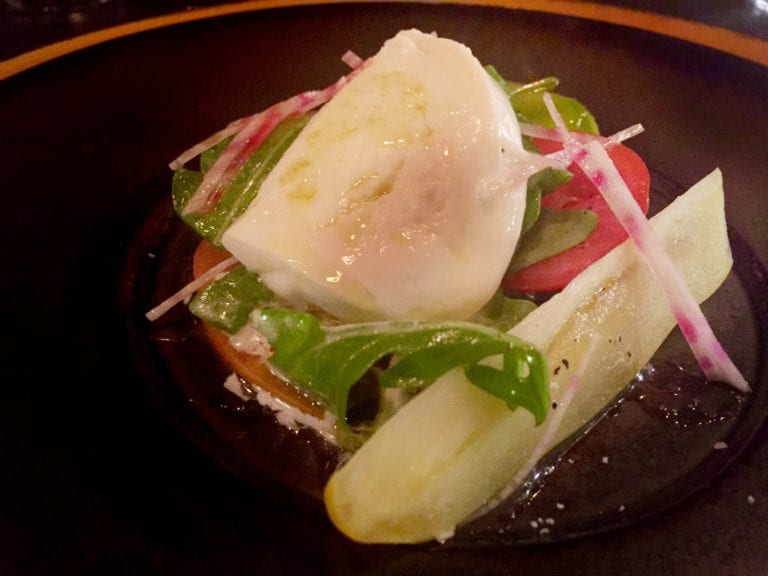 3rd Course
Hudson Valley Foie Gras served with homemade onion marmelade and hen of the woods mushrooms. Paired with a bottle of the 2012 Domain Beaurenard, Chateuauneuf du Pape Blanc from Rhone Valley, France.
This was one of my favorites! The texture wrapped around my palate in the most pleasant way even though I rarely eat foie gras. The crostini provided a perfect crunch to balance the softness of the duck, and the delicate white wine left me anticipating the next bite.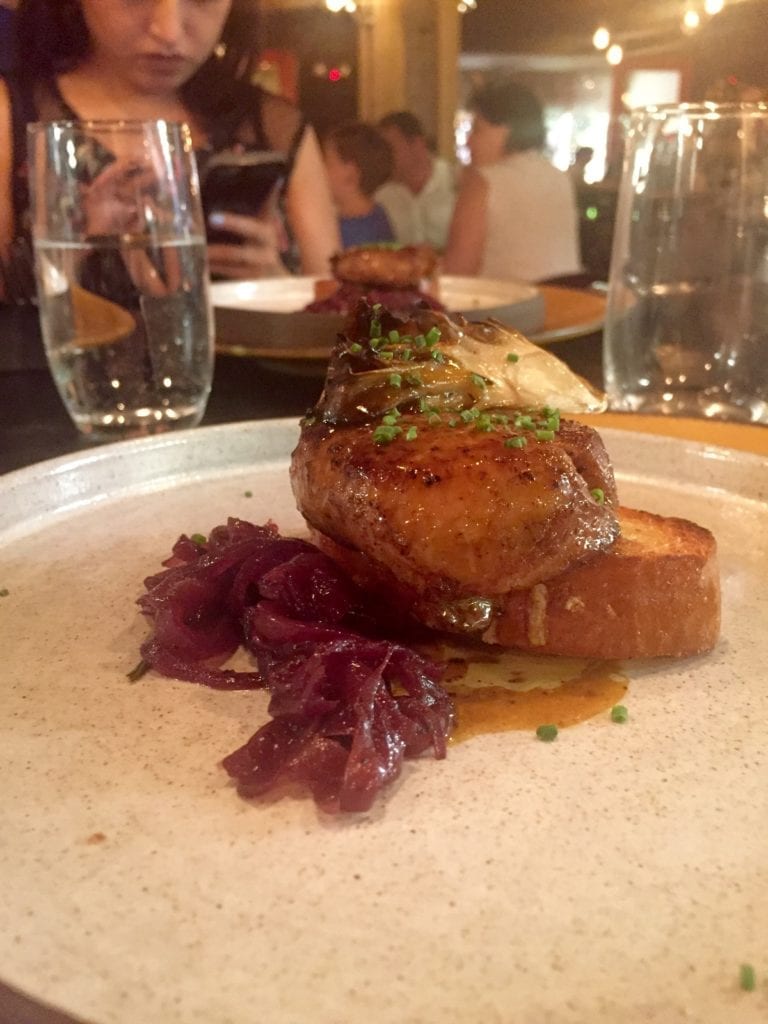 4th Course
Day Boat Scallop with roasted cauliflower and pickled raisins. Paired with a bottle of the 2011 Rojac, Malvazija – Macerated from Istria, Croatia.
The rich sauce covered each bite of this delicious mollusk. Switching to the red wine came at an ideal time.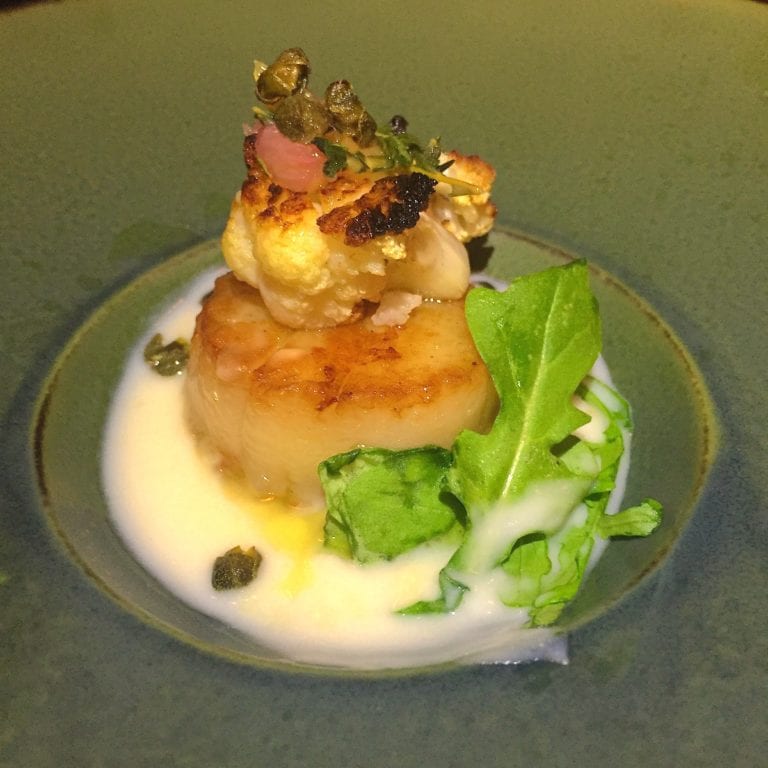 5th Course
Dry Aged Beef Rib Eye and BBQ Ribs served with a side of truffle gnocchi and spinach. Paired with a bottle of the 2006 Corte Sant'Alda "Mithas", Valpolicelle Superiore from Veneto, Italy.
This dish was AMAZING! The aged pulled rib eye cooked for over 8 hours. Proving that, the attention to detail Doherty performs is immaculate. Each style of beef brought a special dimension that was enhanced by the tender and flavorful gnocchi with black truffle vinaigrette.
6th Course
Like any fine feast, the evening ended with dessert. Roasted peaches with almond sabe and pastry cream created by our in-house pastry chef. This magnificent sweet dish was paired with a 2006 Oremus, Tokaji Aszu of 5 Puttonyos.
The fresh ripe peach was perfectly nestled on a creamy bed of goodness. The Hungarian sweet wine provided a satisfying conclusion to the chef's table.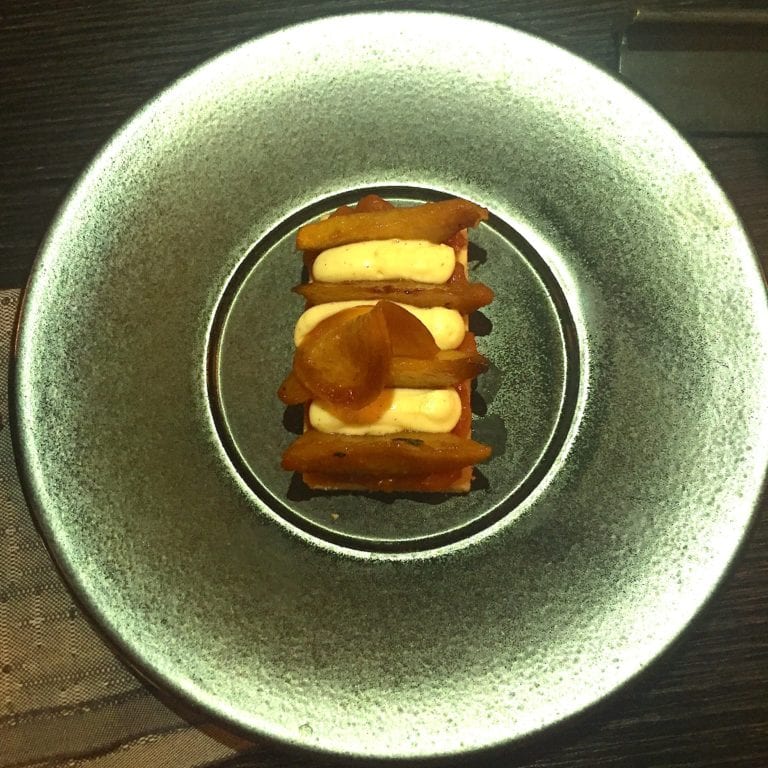 Don't forget the cappuccino!
Book your CHEF'S TABLE experience and we'll see you at Black Barn!